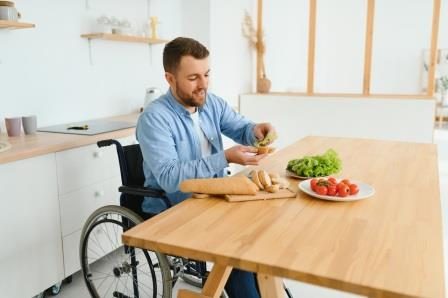 Health
Understanding Disability Housing: A Comprehensive Guide for Families and Individuals
Individuals with disabilities and their families always aim to find housing that is suitable for their needs. However, finding a Specialist Disability Accommodation is no easy feat.
In this post, we'll explore what disability housing is, what you need to qualify for it, and why creating an inclusive living environment is so important. We'll also highlight the critical services that help make sure everyone has access to suitable housing options. Join us as we embark on a journey to figure out the complexities of disability housing.
Types of Disability Housing
Group Homes
People with disabilities can live in group homes and receive their needed help. Only a few residents usually live together as a family in group homes. They provide various services, including essential care and more specialised care. Individual residents' needs determine the specific services provided.
Supported Independent Living
As part of this model of Supported Independent Living, people with disabilities can live independently in their homes and apartments while receiving assistance when necessary. Access to resources like cooking, getting around, or accessing community services could be helpful in this type of living. It promotes autonomy and independence while offering a safety net if necessary.
Also Read: Navigating Supported Independent Living: Your Comprehensive Guide
Accessible Housing
With accessible housing options, houses and apartments have unique features to enable people with physical disabilities to live a more independent lifestyle. This may include ramps, wider doorways, and adapted bathrooms.
Eligibility Criteria
A disability accommodation usually requires meeting certain criteria. These can vary depending on the type of housing and where it is located. Some common criteria are:
Disability Type & Level
When it comes to housing options, there are often accommodations available for individuals with specific disabilities or varying levels of impairment. These accommodations are designed to provide support and meet the unique needs of each individual.
Income
Income plays a crucial role in determining eligibility for housing assistance. Certain housing options are specifically designed for individuals with limited financial resources and therefore have income restrictions in place. These restrictions require individuals to meet specific income thresholds in order to qualify for housing assistance. By implementing these income requirements, affordable housing is made accessible to those who need it most.
Age
Age is an important consideration when it comes to housing options. Certain housing options are specifically designed to cater to different age groups. For example, there are housing options that are tailored to meet the needs of older adults with disabilities. These housing options ensure that the living environment is suitable and accommodating for residents based on their age-related requirements.
Residence
Eligibility for disability housing can also depend on the individual's residence or local jurisdiction. Different areas have different requirements to address the specific needs of their region and community.
The Importance of Inclusive Living Environments
Inclusion is essential for disability housing. Being inclusive is important because it makes people with disabilities feel like they belong, makes them more independent, and contributes to their overall well-being. Inclusion is exceptionally important for the following reasons:
Dignity & Autonomy: The importance of dignity and autonomy in inclusive housing is that it allows individuals to live with dignity and autonomy in their living space. Inclusive housing increases confidence and independence.
Being Part of the Community: Growing up in a community lets you build relationships with the people around you, allowing you to make friends and feel less alone.
Better Quality of Life: Access to suitable housing greatly affects the overall quality of life for people with disabilities. It provides a stable and supportive environment that helps them thrive.
Services Providing Suitable Housing Solutions
Services that assist people with disabilities in finding suitable housing options include the following:
Housing Agencies
For those looking for housing with accommodations, government, and nonprofit housing organisations frequently provide resources and assistance. They can give you info on the available housing options and help you with the application process.
Supportive Service Providers
Supportive service providers offer lots of help, like taking care of personal needs, giving rides, and helping you get medical and therapy services. These services are super important because they help people live independently in their desired housing.
Advocacy Groups
A disability advocacy group aims at raising awareness and advocating for more inclusive housing options and policies.
Legal Services
If you're dealing with discrimination or having trouble finding suitable housing, there are legal services that specialise in disability rights. They can guide you and help you out.
Conclusion
The most important thing for families and individuals with disabilities is to learn about disability accommodation. So you'll look for places to live, verifying that you meet the requirements and discovering inclusive, welcoming housing options.
People with disabilities can find accommodation that works for them and lets them live happy lives in the communities they desire by understanding how important it is for everyone to have inclusive housing and getting help from housing agencies, service providers, advocacy groups, and legal services. As a result, accessible and inclusive housing benefits not only people with disabilities but society as well.