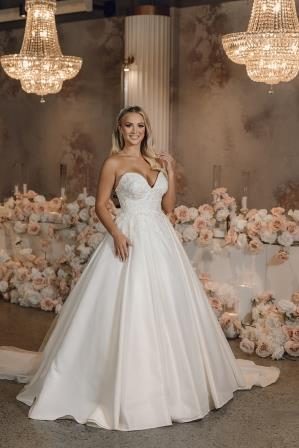 Life Style
Revisiting the Classics: Timeless Gowns That Never Go Out of Style
In the ever-evolving world of bridal fashion, there's something undeniably captivating about classic wedding dresses that stand the test of time. These timeless designs have a universal appeal that transcends trends, making them a beloved choice for brides across generations. In this article, we embark on a journey to revisit the classics—those iconic wedding gowns that have graced the aisle for decades and continue to capture hearts.
The Elegance of the A-Lin
The A-line wedding gown is a true icon of bridal fashion. With its fitted bodice and gracefully flared skirt, this silhouette is universally flattering and endlessly elegant. A-line gowns are often adorned with exquisite lace, intricate beadwork, or delicate embroidery, adding a touch of romantic charm to the timeless design. These gowns effortlessly blend tradition with modernity, making them a cherished choice for brides who appreciate both simplicity and sophistication.
Classic A-Line with a Modern Twist
While the A-line silhouette remains true to its roots, modern interpretations introduce subtle updates to enhance its appeal. Brides can choose from variations like deep V-necklines, illusion lace bodices, or open-back designs, breathing new life into this enduring classic.
The Romance of the Ball Gown
Few wedding gown styles evoke the same sense of fairy tale romance as the ball gown. Characterized by its voluminous skirt and fitted bodice, the ball gown silhouette is the epitome of regal elegance. Brides who choose this classic design often find themselves transported into a world of enchantment and grandeur.
Timeless Ball Gown Fabrics
Classic ball gowns are typically crafted from sumptuous fabrics like satin, silk, or tulle, ensuring a luxurious look and feel. The beauty of the ball gown lies not only in its silhouette but also in the richness of its materials. These gowns often feature lace or beadwork, enhancing their timeless allure.
The Allure of the Mermaid
For brides seeking a silhouette that combines sophistication with sensuality, the mermaid gown is a timeless choice. This figure-hugging design flares out at or below the knee, creating a dramatic and unforgettable look. Mermaid gowns celebrate the female form, accentuating curves, and exuding confidence.
Mermaid with a Vintage Touch
To infuse a touch of vintage charm into the timeless mermaid style, some brides opt for lace overlays, cap sleeves, or sweetheart necklines. These delicate details add a sense of nostalgia to an already captivating silhouette.
The Grace of the Sheath
Sheath wedding gowns are the embodiment of effortless elegance. This minimalist and sophisticated silhouette skims the body's contours without excessive volume, creating a clean and statuesque look. Sheath gowns are favoured by brides who appreciate simplicity and understated beauty.
Modern Sheath with Illusion Elements
While sheath gowns are often associated with simplicity, modern interpretations introduce elements of intrigue. Illusion lace sleeves, plunging necklines, and open backs are just a few of the ways designers are reimagining the timeless sheath silhouette.
The Versatility of the Two-Piece
Two-piece wedding ensembles offer a unique twist on bridal fashion, allowing brides to mix and match separate pieces to create a custom look. This classic yet contemporary style is perfect for brides who desire freedom and versatility in their wedding day attire.
Mix-and-Match Classics
Brides can pair different tops and skirts to achieve their desired aesthetic. From lace crop tops with flowing chiffon skirts to beaded bodices with sleek satin bottoms, the possibilities are endless. This classic style lets brides express their individuality while embracing tradition.
The Charm of Tea-Length Dresses
Tea-length wedding dresses offer a delightful blend of vintage charm and modern whimsy. With hems that fall between the knee and the ankle, these dresses are perfect for brides who want to showcase their footwear or dance the night away with ease.
Timeless Tea-Length with a Contemporary Twist
Modern tea-length dresses often feature playful elements like coloured accents, illusion necklines, or unexpected textures. These additions inject a touch of contemporary flair into the timeless tea-length style.
The Enduring Allure of Classic Wedding Gowns
Classic wedding gowns continue to captivate brides-to-be with their timeless allure and enduring beauty. Whether you're drawn to the graceful A-line, the regal ball gown, the sultry mermaid, the understated sheath, the versatile two-piece, or the charming tea-length dress, there's a classic silhouette that speaks to your unique style and personality. At Jayleen Bridal Shops, we celebrate the timelessness of these designs while offering modern interpretations that capture the essence of every bride's dream. Embrace the classics, and let your bridal journey be a testament to enduring love and style.